Moris Urari UX Certification by Nielsen Norman Group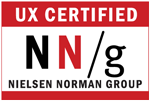 UXC#1011696
Agile
This method offers a light framework for assisting teams. It helps them function and maintain focus on rapid delivery. This method assists teams reducing risks in software/product development.
Lean UX
Application of User Experience Design methods into product development: Early validation, Collaborative design, Solving user problems, Measuring KPIs, Nimble design and Learning loops.
Personas
Personas can be used as part of a UCD (User Centred Design) process for the development of software/products. They are useful in considering the goals, desires, decisions and interactions.
User Journeys
User Journeys represent a scenario in which a user might interact with. They can be used for demonstrating the way users currently interact or demonstrating the way users could interact .
Information Architecture
A structure for a website, application, or other project, that allows us to understand where we are as users.
Wireframing
A visual representation stripped of any visual design can define the hierarchy of items on a screen and communicate what the items should be based on user needs. Perfect fit for Agile and Lean processes.
Prototype
With a prototype we can test early design ideas at low costs. Doing so lets you fix potentially usability problems before wasting money in detailed design phases or developments that doesn't work.
Persuasive Design
Users judge websites in a second and their decisions are controlled by unconscious thought. Understanding the psychology behind motivation and action can take your site to the next level.